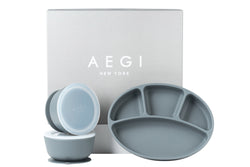 Peppercorn Silicone Suction Gift Set
Crushed pepper and smoky charcoal, the hush of an art gallery
Includes 1 silicone suction plate and 2 silicone suction bowls in a premium gift box.  Each bowl comes with a lid.  Select gift set with or without plate lid.
See us in action:  mom-approved; silly suction; you seriously cannot; heavy lifting
Made of 100% platinum silicone
Smooth edges for safe handling and easy cleaning
Strong suction base and easy tab suction release
Bowl includes ounce markings for easy food prep and feeding
Freezer, microwave oven, and dishwasher safe; oven safe up to 425° F
BPA, lead, and phthalate-free
Approximate plate dimensions and capacity:  9" (l) x 6 ¾" (w) x 1 ½" (h); 22 fl. oz.
Approximate bowl dimensions and capacity:  4 ½" (w) x 2 ¼" (h); 9.5 fl. oz.
Plate lid is not spill-proof
Made in Korea